June marked our 3 year anniversary at this house, and even though I have painted the entire interior since we moved in, and in some rooms two or three times, I'm getting the itch to repaint the whole thing again.... and plus I just L-O-V-E to paint!
Some paint chips I heisted from Lowe's this weekend and my F&B and PB color books
Of course this couldn't come at a worse time... not only are we into our 24th consecutive day of triple digit weather with no relief in sight, there is no way I could have the whole thing done before our trip to Tennessee to visit our son Jonathan and DIL Alisha at the end of August... I just hate half baked projects, and can't sleep at night knowing something is 'undone'
When we get back from that trip, I will be having foot surgery the first week of September (more on that later) and will be in one of those highly attractive boot casts for 6 weeks and on crutches too, putting me well into October before I can start resuming normal activity, not that my activity is normal in the first place.
Some of my favorites with the travertine floor tiles that are throughout our home
The Fall is a perfect time to paint, so my goal is to get started in late October/early November, and hopefully be all finished before our trip to Ecuador where we will be spending Christmas and New Years visiting our daughter Kristin, who is a Peace Corp Volunteer there.
This will keep me busy during the holidays and hopefully keep my mind off the fact that my 'babies' won't be spending Christmas at the house, therefore I won't be putting up a tree or decorating, baking, and all the other traditional holiday family activities... and without a 'project' to occupy myself with, I would go stark raving mad during that time.
I know what your saying to yourselves right now, "Wow Lisa, what foresight you have, to be planning that far ahead".
Seriously... who am I trying to kid here?
It's all because I caught the painting itch this weekend when my BFF and I went to check out the new model homes in our neighborhood, and I fell in love with a color scheme that I MUST have, and late October is the only time I can get to it.
The walls are painted with Sherwin Williams Blonde 6182
I already have so many of the color elements in this interior... My floors are same travertine tiles, only mine are laid in a Versailles pattern. I have a lot of black and white furniture and I even have a large jute rug similar to this one... and on my short list of "things to do", is paint my kitchen & bath cabinets an off white with
Rust-Oleum Cabinet Transformations
, this stuff looks so easy to use, I seriously think I can knock out a bathroom in a weekend and the kitchen in a week when my Man is out of town.
I have a bench that I could recover in chamois cloth, and use black leather buttons on the tufting like the one here in the living area. I also have a camel back settee that my MIL is babysitting for me that I think needs to come back home so that I can recover it in a soft pale gold velvet, like the fabric on the settee at the foot of the bed at the model home
It was love at first sight when I saw this color pallet. I love the yellow/gold walls, they look so warm yet calming, and the black and white gives it drama and that WOW factor.
Here are a few of the colors I am considering...
Farrow & Ball Farrow's Cream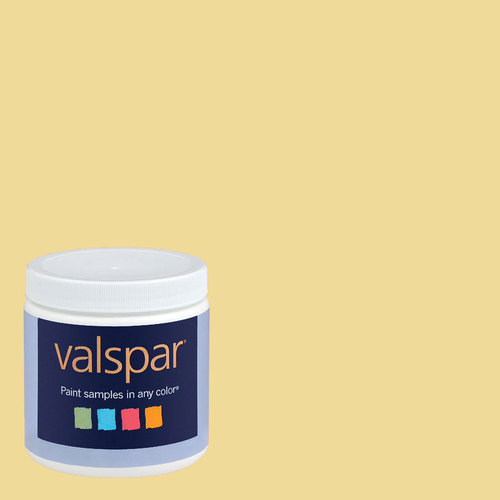 Valspar Allen & Roth Ticket Stub


Sherwin Williams Blonde


This is the current paint colors that are on the walls now. I did this when gray hit the scene as the 'new neutral', and I still love it, but it's time for a change.
RL Greenwich is currently in the Guest Bedroom and Study


RL Neutral Brown is in the Sitting Room/Lounge
RL Cobblestone is in all the common areas
What are your favorite color schemes and wall colors, and do you change them out ever so often? I love change and get bored looking at the "same 'ol, same 'ol". that's why I bought mostly black & white furniture when we moved here, so that I can change the look with throw pillows, window panels, accessories and of course...PAINT!
I hope everyone is having a great start to their week!
I will be linking up with these fun parties...